About Joe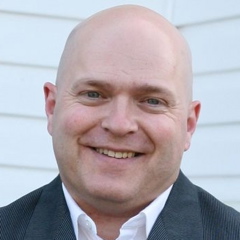 At 49yrs of age and, surprisingly – having grown up as a farm kid, I've found myself with almost 30 professional years in a mix of finance-related roles (both banking/lending, and insurances/investments), AND sales (including leadership and team building, real estate, and the auto industry in finance division management).
Over and over again, I successfully used unqualified understandings of psychology in both appreciating, AND communicating effectively with others – and more importantly in 'meeting others where they were'.
Then, on October 23, 2015, a past filled with trauma caught up with me, and I was subsequently diagnosed with both 'High Intellect ADHD with (slight) OCD, and PTSD.
My traumas stemmed largely, it was felt by clinicians, from my 12yrs of volunteer FIRE/EMS work (which I had already retired from, as Lieutenant, in 2005).
I'd not ever imagined that someone who'd become as 'hardened' by everything he'd witnessed would be later haunted by the numerous, numerous deaths, traumatic incidents, professional 'close calls', and the like, and yet there I was. Facing a potential suicide, and yet rationalizing my own way out of it – and proceeding to the nearest hospital in order to seek out some sort of advice or diagnosis on what it was I was suddenly experiencing.
From being that typical 'guys guy', tough, emotionally disconnected farm kid only a few years before, to then openly crying while holding my son for the very 1st time at his birth only a few years prior to my diagnosis, to then recognizing I was starting to get choked up during kinder television commercials, or hearing children's laughter, a retelling of a loving tale, etc.
Whatever it was, I was experiencing it, and it was foreign to me…all at 44yrs of age.
After that dual-diagnosis, and during my time with clinicians, I was facing some new decisions. Medications. Continued therapy sessions. Further study of my dual affliction. All things I was accepting of, and yet still somewhat confused and concerned in how to proceed. As opposed to succumbing to the pressure in accepting that the PTSD would control me forever, that the ADHD would ultimately make all future decisions, AND that the best way out was medications, I made the decision to strike out on a journey of educational discovery.
I've since studied, certified, and am successfully practicing in everything from Rational Emotive Behaviour Therapy (REBT), Neurolinguistic Programming (NLP), Modern Applied Psychology, and Cognitive Behaviour Therapy (CBT). The more modern interpretation of the ancient practice of Ho'oponopono (as an Advanced Practitioner), Reiki (as a Level 2 Practitioner), various PTSD studies and therapies, studies and certifications in Positive Psychology, Mindfulness (Certified as a 'Master Practitioner'), certifications in Life & Performance Coaching, and more.
I'm on a mission to ensure daily practice within myself as a responsible, inquisitive way in growing my understanding of the mind. And I'm continuing my experiences, education, and practices for you; in helping you walk the journey of lasting change.